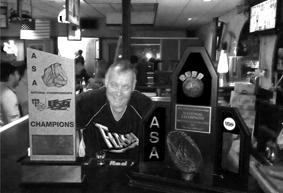 Warren went to high school at Kelvyn Park where he played football, baseball, and basketball. He was an all-city player. Warren was the prom king, homecoming king and voted most athletic of his high school class.
He went to Robert Morris College where he lettered in both basketball and baseball his first year before joining the U.S. Marines Corps during Viet Nam to serve his country as a patriot and proud American would do. He played for the Marine basketball team and won the league championship.
Warren played semi-pro football with the Gladiators for a number of years and won the city championship in 1972. Through the years, Warren has enjoyed playing, coaching, and sponsoring a variety of sports and activities. These include football, softball, basketball, golf, bowling, darts, and pool. Warren has won city championships in darts and numerous other awards. He has won many league championships in pool and still plays for his Levee team. He takes pride in young players that develop under his guidance. He may even teach you some of his trick shots he learned from his father in law.
He won more than 50 park district league championships in 16" softball. He has coached many young players into becoming 16" Softball Hall of Famers. In 2012, Warren was inducted into the 16" Softball Hall of Fame and has a brick featuring his name at the 16" Softball Hall of Fame museum in Forest Park.
If the timing is right you may get Warren to do a few magic tricks for your entertainment and have a Jameson or 2 with him.
Warren has 4 children and 2 step children who have all worked at The Levee. He also has 10 grandchildren who enjoy spending time and playing with their Grandpa!